Description
Hadron Pro DNA250C Combo Kit is combined with Hadron Pro DNA250C Mod and Ragnar RDTA. Steam Crave
 Hadron Pro DNA250C Box Mod is powered by a changeable Li-Po 1600mAh battery, it fires to a 400W maximum output with an industry leading power efficiency rating. Steam Crave Hadron Pro Box Mod adopts the advanced Steam Crave DNA250C chipset. It supports Replay/Boost/VW/TC modes. The Mod is charged via USB 3A charging (2A Suggested). The high discharge battery can provide low profile, low chance of leaking electrolyte, low internal resistance, long cycle life and safety guarantee. Its 0.9" full color TFT screen shows vaping data clearly, brings you more convenience. The Aromamizer Ragnar RDTA can hold 18/25ml e-juice capacity (Replacement Glass is included). It can produce 80% side airflow, 20% bottom airflow and will provide smooth airflow for medium and high power vaping. Steam Crave Aromamizer Ragnar RDTA adopts postless deck with bottom honeycomb air holes for wonderful vaping experience.
Features:
1. Changeable Built-in battery, Li-Po 1600mAh 4s
2. DNA250C Chipset: Replay/Boost/VW/TC modes
3. Maximum output 400W
4. 0.9 inch full color TFT screen
5. 22mm wide bore 810 drip tip
6. Postless deck with bottom honeycomb air holes
7. 80% side airflow and 20% bottom airflow
8. Smooth airflow for medium and high power vaping
9. Multiple protections: Atomizer/Low Resistance/Short Circuit/Overheat/Low Voltage Step Down/Onboard Reverse Polarity Protection
Brand: Steam Crave
Unit: 1 Set
Material: Zinc Alloy
Capacity: 18ml/25ml
Battery: Built-in 1600mAh Li-Po battery, 4s
Input Voltage: 6.0V-16.8V
Output Voltage: 0.2V-16.8V
Current Range: 0.5A-30A
Temperature Range: 200F-600F
Coil Resistance: 0.1ohm-3.0ohm
Screen Pixel: 0.9 inch full color TFT screen
Drip Tip: 810
Package: Gift Box
Each set contain:
1pc Hadron Pro DNA250C Mod (Equipped with Li-Po Battery 1600mAh Pack)
1pc USB Connecting Cable
1pc Aromamizer Ragnar RDTA (Equipped with Ragnar Postless Deck)
1pc Ragnar Series Deck
1pc Chamber Reducer
1pc Spare Part Bag of O-Rings and Grub Screws, Slotted Screws
1pc 18ml Glass
2pc 25ml Glass
1pc 25ml Conversion Chimney
2pc Coil Cotton
1pc Vape Band
1pc Allen Key
2pc User Manual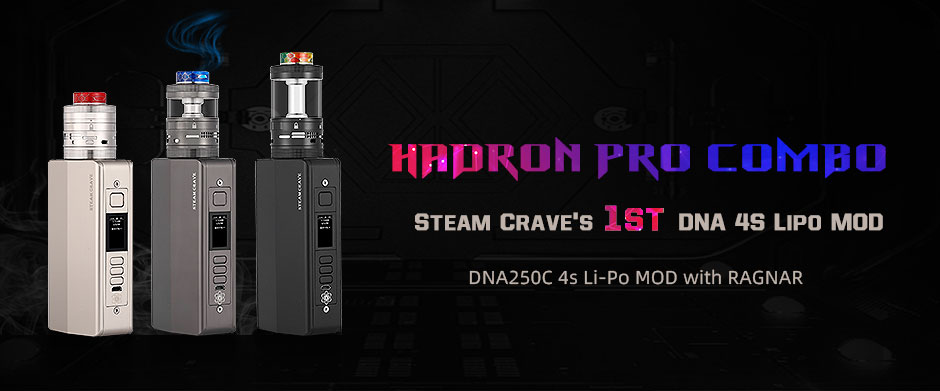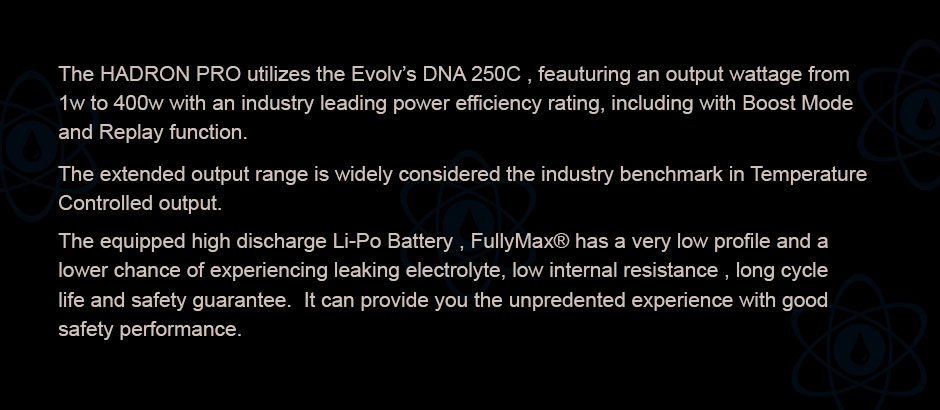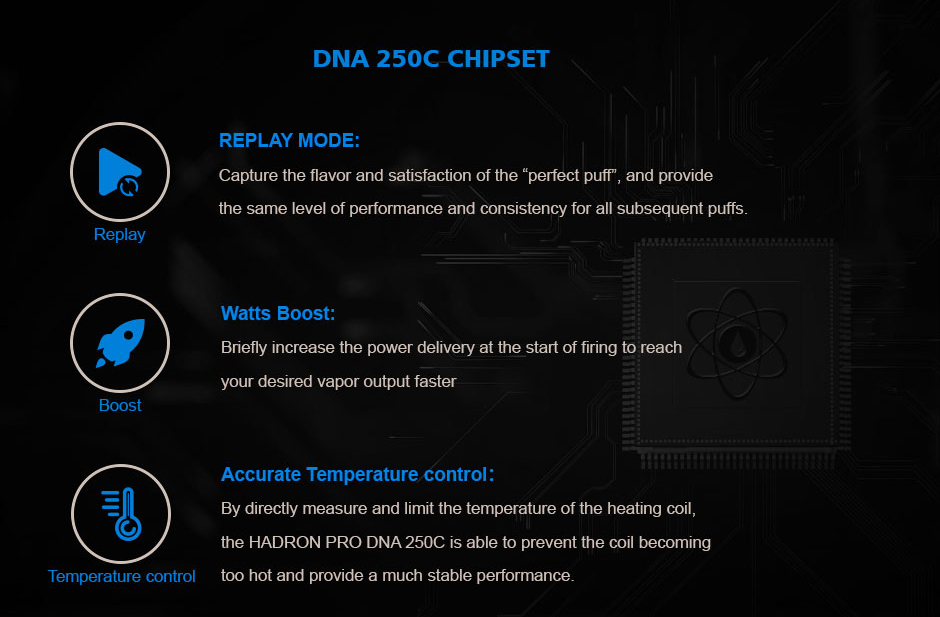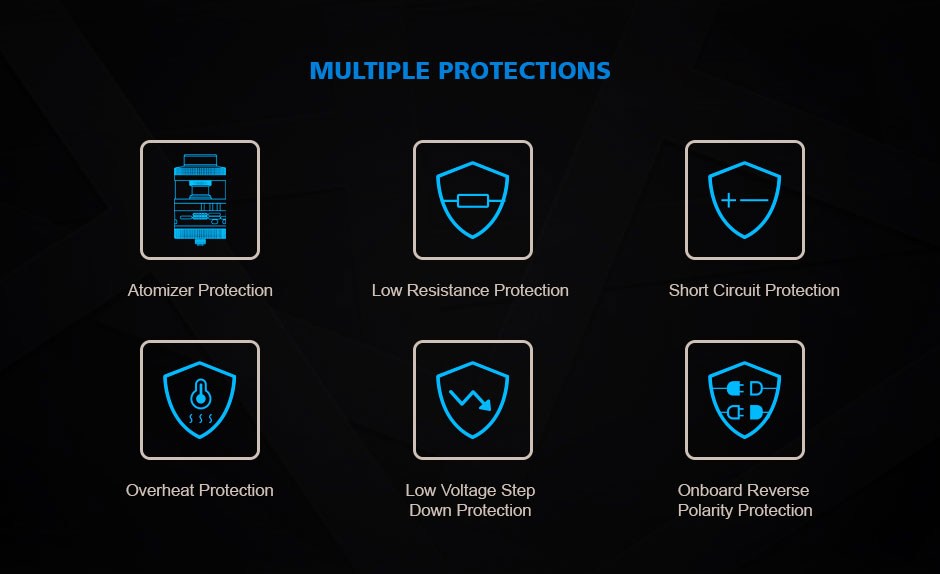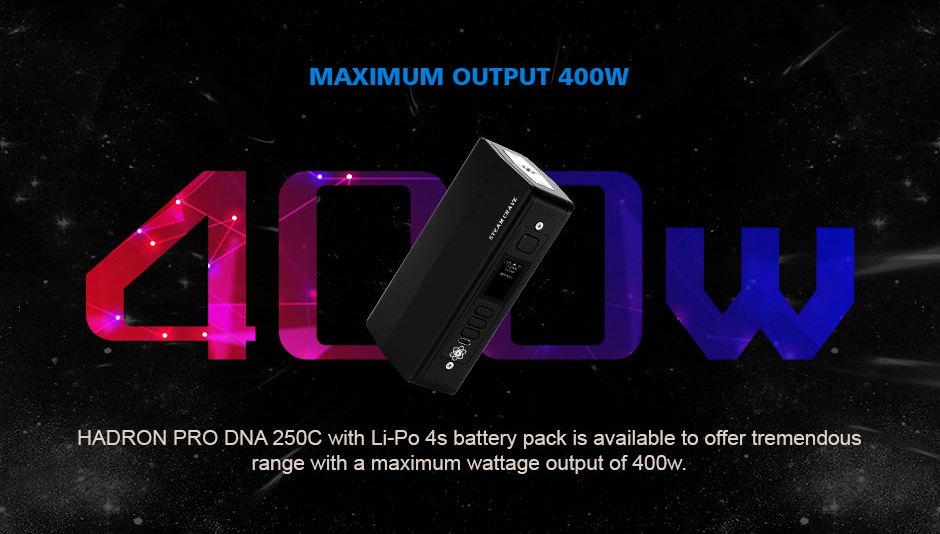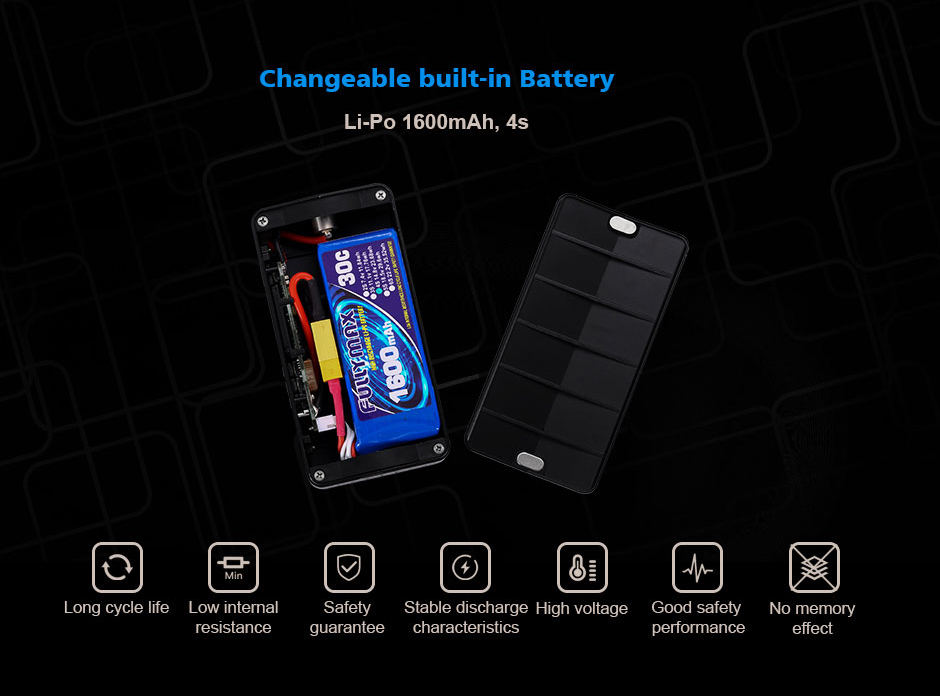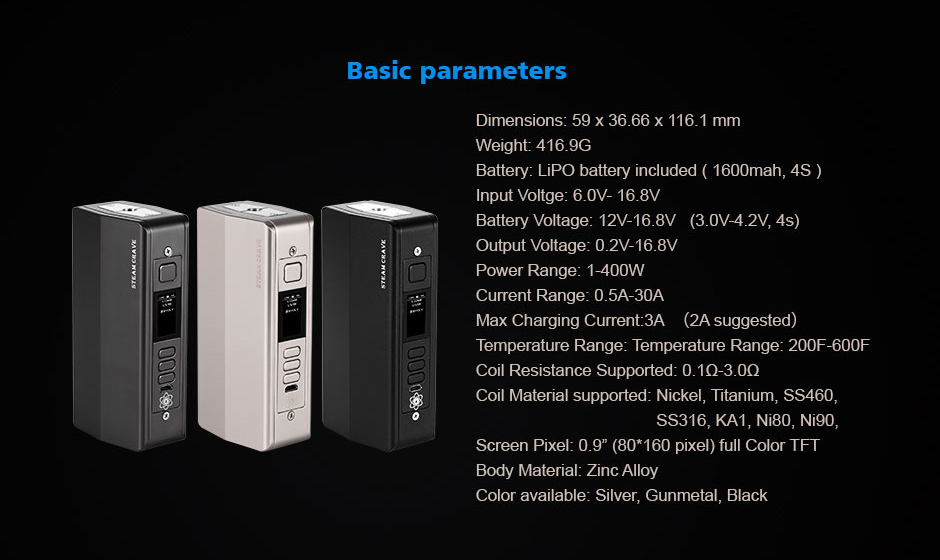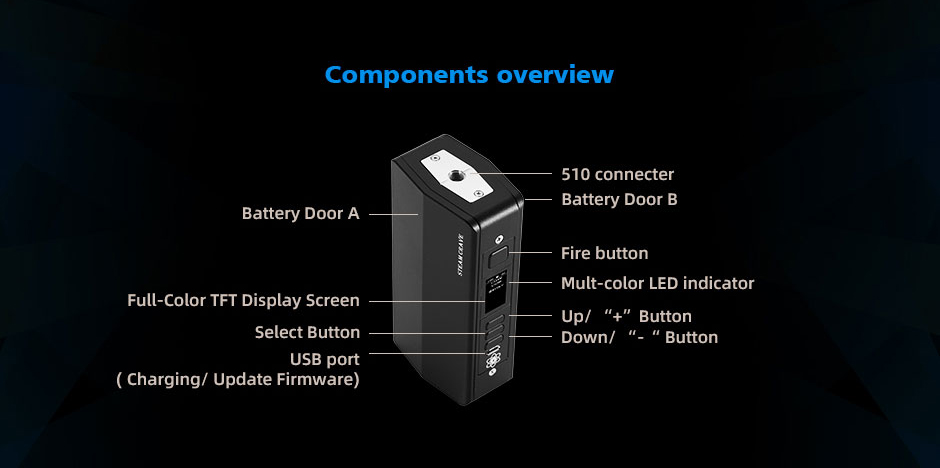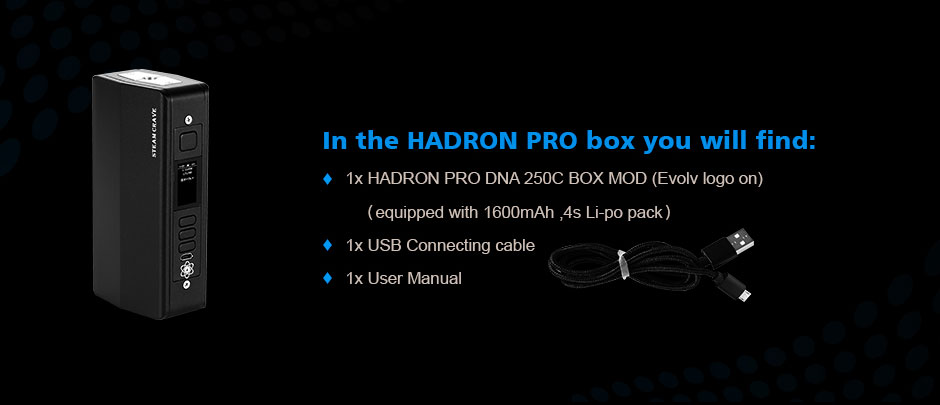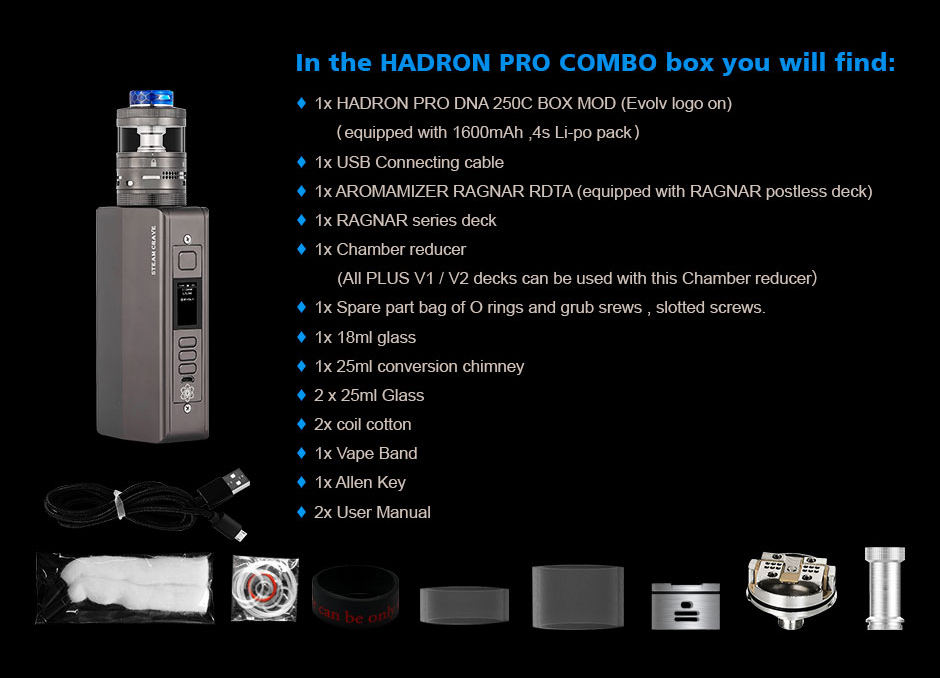 Payment & Security
Your payment information is processed securely. We do not store credit card details nor have access to your credit card information.